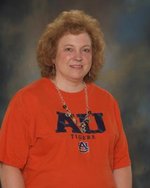 Phone:
Email:
Degrees and Certifications:
Mrs.

Kimberli Proctor

Subjects Taught
Advanced Math, Algebra I, Algebra II, Geometry


Education
1984: Graduated Scottsboro High School

1988: Graduated Judson College with Bachelor of Science in Physical Eduction with minor in Mathematics

1996: Graduated Alabama A&M University with Master in Physical Education


Bio
I was born in Scottsboro, Alabama. I attended Scottsboro High School during 1980-1984. I played basketball and volleyball during my high school years. During my sophomore year, I was coached by Mr. Sam Hambrick, and my senior year by Mrs. Robyn Kirkland. I'm very proud and grateful to have had the opportunity to experience both coaching philosophies.

After high school, I attended and played college basketball at Judson College from 1984-1988.I studied physical education and mathematics. In 1988, I graduated from Judson with a Bachelor of Science in Physical Education and minor in Mathematics.

Also in 1988, I married Greg Proctor, and we settled down to live in Fackler area, where we have been living for 29 years. We have been blessed with three children; Heath, Caleb, and Jennifer. Together we raise commercial beef cattle.

I aquired my Masters in Education from the University of Alabama A & M 1994. Since then, I have tried my hand at coaching girls basketball when I started teaching at Hollywood Jr. High School. I enjoyed coaching, but raising a family of three children was more important to me.

Since April of 1991, I have been teaching at Skyline High School. I started teaching elementary and high school physical education, when I first came. In 1998, I transfered to teaching high school mathematics where I am presently teaching. I am presently working on my 27 year of teaching here at Skyline where I have been truly blessed! I thank God for giving me the opportunity to be involve with the childrens education and athletic experience. Go Vikings!!

My children are grown and all have graduated college. Heath has recently married this past October to Jennifer Rice. We are proud to have her in our family! Caleb is working in Huntsville with his Microbiology degree. Heath is an electrical engineer working out of Birmingham. Jennifer graduated from Auburn with degree in Animal Science. She is currently looking for a job in her profession.

This is my 9th year of being Senior Sponsor. I am thrilled to have the opportunity to be the sponsor of Sklyine's Class of 2018. I consider my job as a blessing and looking forward to a great year! Go Vikings!

Always,

Go Vikings!! Go Big Green!!